Note to editors: The available categories that you can put your article into are at the bottom of this page.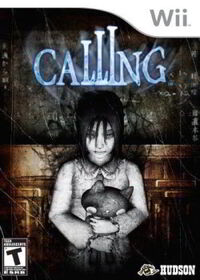 Welcome to the Calling Wiki: the ultimate source of information for the game Calling for Wii. This website was created on March 28, 2010
Calling is a supernatural horror game made for the Wii, the story revolves around a chat room called The Black Page, rumored to let some talk to the dead. Meet Rin, Shin, Makoto, and Chiyo as they embarked on their journey through the Mnemonic Abyss.
If you have any questions, contact Forum Administrator for The Black Page at Forumotion
Categories
Edit
Ad blocker interference detected!
Wikia is a free-to-use site that makes money from advertising. We have a modified experience for viewers using ad blockers

Wikia is not accessible if you've made further modifications. Remove the custom ad blocker rule(s) and the page will load as expected.