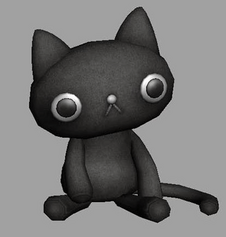 The Cat Doll is an important item in the game, since it serves as Save Point. It originally belongs to Reiko Asagiri.
Appearance
Edit
A stuffed black cat with big black eyes. As a Save Point looks normal (with a blue glow around it), but when you see it being hold by Reiko, it looks like as being neglected (almost ripped apart).
Miscellaneous information
Edit
The Cat Doll cannot be used during a encounter with a ghost or when a major cutscene is about to be triggered, as it happens near the end of the game. You can notice this because during these periods it will have its eyes closed.
While the original Cat Doll (Reiko's) looks in a very bad shape, it looks as good as new at the end of the game, when Rin finds it on her bed.
It's possible that the Cat Doll is the inspiration of Reiko's nickname on the chatbox (Kuroneko = Black Cat).
Ad blocker interference detected!
Wikia is a free-to-use site that makes money from advertising. We have a modified experience for viewers using ad blockers

Wikia is not accessible if you've made further modifications. Remove the custom ad blocker rule(s) and the page will load as expected.