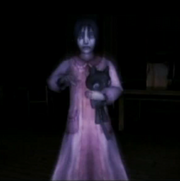 Apparizione
Reiko fa molte apparizioni nella scuola nella casa ad un piano e
quella ha due poi all' ospedale
aspetto e storia
Reiko ha i capelli neri e gli occhi arancioni (verdi da viva) e si è isolata dai pochi amici che aveva da viva.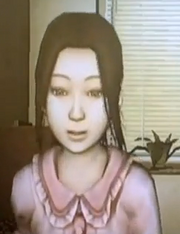 Da quando entrata all'ospedale per una operazione, Reiko non ebbe più amici,
ma iniziò a fare amicizia con Michio Kischibe e Kyoko hibino. Ebbe da sua madre un cellulare, ma quando sua madre non venne più a trovarla
Reiko divenne ancora più depressa, e, come colpo di grazia, il signor Michio Kischibe morì perchè era anziano e Reiko contava ormai solo sulla sua amica conosciuta
su internet che le aveva promesso di venire a trovarla, ma quando non la vide arrivare
credette di non essere speciale e che tutti sarebbero stati meglio senza di lei e allora si suicidò.
ghost
Appena suicidata, Reiko prese il suo odio e la sua disperazione
e fece apparire tante persone nell abisso mnemonico. Sembra
che Reiko porti tante persone nell'abisso per farsele amiche ma non credo
che funzioni visto che nessuno vuole dare amicizia con chi li ha uccisi
informazioni
Reiko nell livello il lamento. Bisogna inseguirla e non rimanere indietro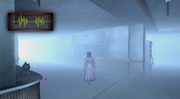 nell livello il legame bisognerà seguirla ma anche se un po più luminoso
non bisogna rimaere indietro se no si muore
Ad blocker interference detected!
Wikia is a free-to-use site that makes money from advertising. We have a modified experience for viewers using ad blockers

Wikia is not accessible if you've made further modifications. Remove the custom ad blocker rule(s) and the page will load as expected.